If you're running out of fresh ingredients for your next–day cooking, you might end up shopping with the crowd on wet markets. But, you know that it's not the only option. This time – there's no more hassle. You can seek for online grocery delivery service that can deliver you the freshest ingredients straight from the wet markets.
Buying from online grocery stores in Singapore has provided a much safer delivery option this time of the pandemic. Also, buying groceries online provides time-saving convenience at very affordable prices.
Below are the top 3 online grocery stores that delivers fresh ingredients from wet market.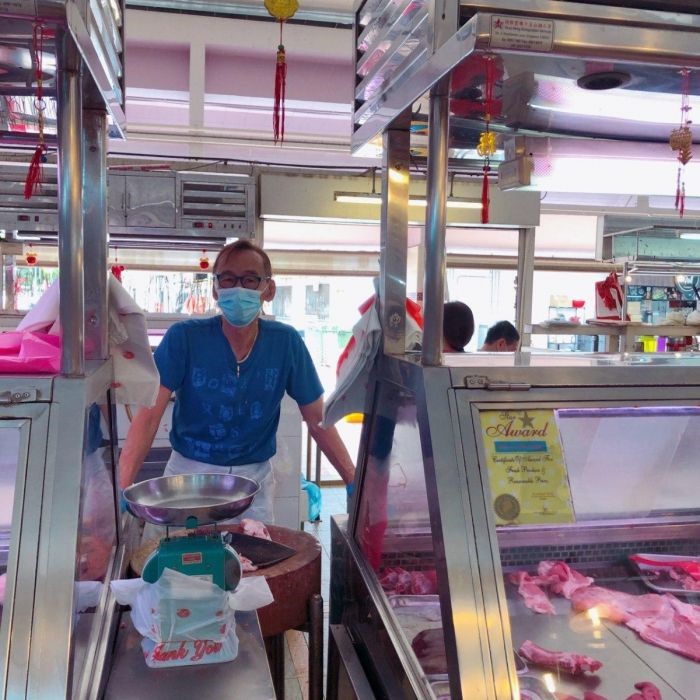 Image Source: TADA Fresh – Mervyn Pork Stall
Planning to cook a char siu and you're too busy to take a trip to the wet market to buy fresh pork. Don't worry, TADA Fresh carries a wide array of fresh meat such as fresh pork in Singapore. If you ordered for today, you will receive it at your home the next day.
They also carry a wide array of fresh produce – from fresh fruits to vegetables. You can even find fresh seafood.
There's no delivery charged when you ordered above S$50. There is a minimum order of about $30 with a flat rate delivery fee of $9 islandwide.
And, don't miss the $1 weekly deals. Since, their goods are from local wet markets in Singapore: Tekka, Tiong Bahru, 216 Bedok.
You can conveniently order at any time of the day at https://tadafresh.com/.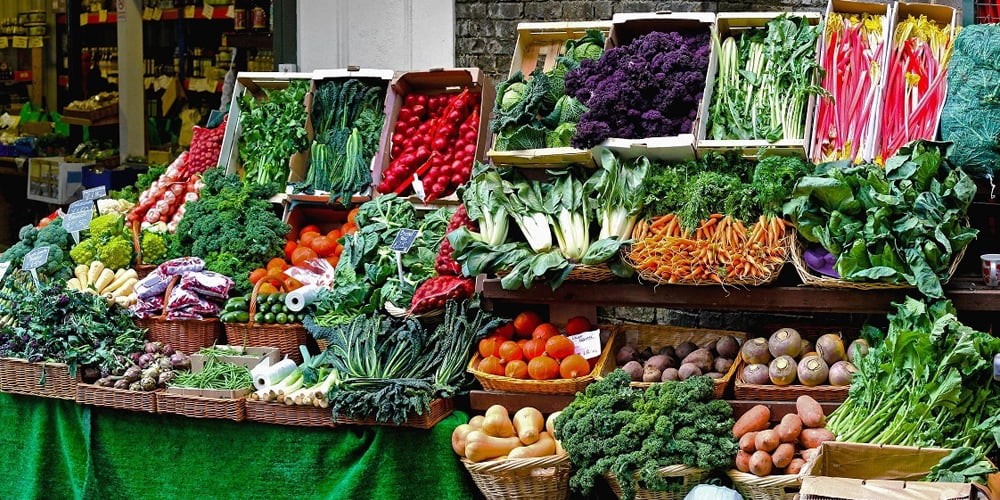 Image Source: PurelyFresh About Us Page
If you are planning a classy dinner the next –day but seem busy today. You may be running out of time for a quick trip to the market. There's no need to rash to the wet markets. With PurelyFresh, all you just need to do is to order on their website. It's open 24/7. So, you can order at any time of the day, and you'll get the best cut.
One cool thing about PurelyFresh, you can customise your favourite seafood or meat. They can have it sliced, chop or whatever cuts.
If you're dish also requires fresh vegetables, no need to go to wet markets. You can shop at PurelyFresh. Also, you may find fresh fruits. Get free delivery when you spend over S$69. There's a minimum order of $50, and you'll have a delivery charge of $10 for orders below $69.
You may shop at: https://www.purelyfresh.com.sg/.
3. Market Fresh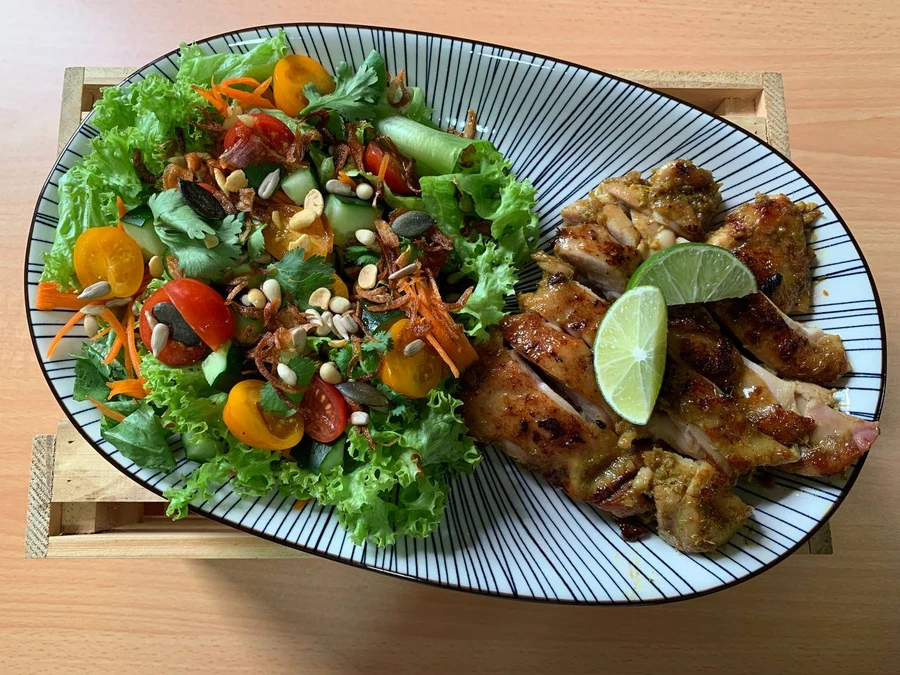 Image Source: MarketFresh- Grilled Lemongrass Chicken & Salad With Asian Dressing
Are you planning to prepare the fresh salad, and you run out of fresh ingredients? There's no need to worry. At Market Fresh, you can find fresh vegetables, meat, and seafood. There's no need to go out, so you have more time to spend on your cooking and on to your work.
Enjoy free delivery, when you spend over S$68. Delivery starts at $24 for orders between $0-30, $1 for orders between $30.01, and $12 for orders between $50.01 -$67.99
They ensure that you will get fresh products since orders prepared on the day of delivery. Get started by placing your order at https://marketfresh.com.sg/.
What are the Benefits of these online wet market in Singapore?
Online Wet Market is the easiest way to buy fresh meats or ingredients online in Singapore. They are becoming popular today due to a lot of benefits that they can provide.
And, below are the benefits.
Convenience
Grocery shopping used to mean a long drive, standing in long lines, and finally reaching the checkout counter. Even on markets, you need to shop with the crowd and transfer from one stall to another.
Online, all you need to do is check out the product, and you will have the product fresh delivered right at your doorstep. Aside from that, online grocery shopping also saves time, which is an essential factor, especially in a country where time is a scarce commodity. Many popular local wet market stalls are now online.
Variety
Online wet markets are popular not only because they offer great quality fresh seafood and meat, but they also offer a wide selection of vegetables and fruits. You can find a wide array of fresh vegetables such as broccoli, cauliflower, Brussels sprouts, carrots, beets, cabbage, and peas. You will never run out of options.
And, if you are looking for more exotic fruits and vegetables, then you will be satisfied with the variety of online wet markets in Singapore that offer such fruits and vegetables.
Price
You will save more money as they provide free shipping and online deals. Also, their prices are based on local markets – a budget-friendly price. So, if you're shopping in a local wet market to save more money, there's no need to take a trip to these local wet markets.
Time
Not only can you save money, with online grocery delivery in Singapore, but you can also save time. No need to go on a wet market trip. You can order at any time of the day. You can save time and focus on the things you love doing such as cooking.
So, when you need some fresh ingredients on your dish, you can shop using online grocery delivery stores. You can skip the queue and get the freshest products from popular wet market stalls in Singapore.